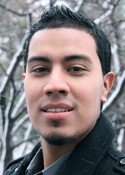 Over 115 supporters gathered this past Sunday night (July 7) at the Midwest Grill on Cambridge Street to officially launch Luis Vasquez' campaign bid for a seat on the Cambridge City Council.
"I want to represent possibilities," remarked Vasquez. "I want us to take this City by storm and create a Cambridge that is welcome to everyone, just like it used to. Why stop at affordable housing? Let's take it a step further and fight for affordable living as a whole."
Vasquez emphasized the importance of civic engagement, "My name may be on those stickers, but this is a together thing. We are gathered here today because we love our community. Let's make sure that nobody gets left behind on November 5th. I challenge you to find five people that are not registered to vote and you talk to them about why they should. I challenge you to find the voters that only vote every four years for the president and you tell them why they should vote this November, as I will be. Whether you vote for me or not, just make sure you show up at the polls. At the end of the day, if we can work through these challenges together, Cambridge wins."
Full story and pictures on Luis Vasquez' Candidate Page.