Today's Quiz Question: How many Cambridge voters have voted in every city-wide election since 1997 (including municipal elections, primaries, state elections, special (city-wide) elections, and federal elections)?
I just updated my mega-database of Cambridge registered voters (66,327 currently), street listing, and voter history files dating back to 1997. Any other questions you'd like to ask? This post will be expanded accordingly.
Don't forget to vote on Tuesday, November 4. Where do I vote?
---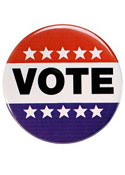 2014 State Election Candidates (Cambridge only)
Senator in Congress

EDWARD J. MARKEY, 7 Townsend St., Malden, DEMOCRATIC
BRIAN J. HERR, 31 Elizabeth Rd., Hopkinton, REPUBLICAN
Governor/Lieutenant Governor
BAKER and POLITO, REPUBLICAN
COAKLEY and KERRIGAN, DEMOCRATIC
FALCHUK and JENNINGS, UNITED INDEPENDENT PARTY
LIVELY and SAUNDERS, INDEPENDENT
McCORMICK and POST, INDEPENDENT
Attorney General
MAURA HEALEY, 40 Winthrop St., Boston, DEMOCRATIC
JOHN B. MILLER, 40 Westland Ave., Winchester, REPUBLICAN
Secretary of State
WILLIAM FRANCIS GALVIN, 46 Lake St., Boston, DEMOCRATIC
DAVID D'ARCANGELO, 183 Bainbridge St., Malden, REPUBLICAN
DANIEL L. FACTOR, 11 Davis Rd., Acton, GREEN-RAINBOW
Treasurer
DEBORAH B. GOLDBERG, 37 Hyslop Rd., Brookline, DEMOCRATIC
MICHAEL JAMES HEFFERNAN, 244 Grove St., Wellesley, REPUBLICAN
IAN T. JACKSON, 232 Highland Ave., Arlington, GREEN-RAINBOW
Auditor
SUZANNE M. BUMP, 409 North Plain Rd., Great Barrington, DEMOCRATIC
PATRICIA S. SAINT AUBIN, 6 Shady Way, Norfolk, REPUBLICAN
MK MERELICE, 22 White Pl., Brookline, GREEN-RAINBOW
Representative in Congress
FIFTH DISTRICT
KATHERINE M. CLARK, 64 Prospect St., Melrose, DEMOCRATIC
SEVENTH DISTRICT
MICHAEL E. CAPUANO, 172 Central St., Somerville, DEMOCRATIC
Councillor
SIXTH DISTRICT
TERRENCE W. KENNEDY, 3 Stafford Rd., Lynnfield, DEMOCRATIC
VINCENT LAWRENCE DIXON, 60 Lake St., Winchester, REPUBLICAN
Senator in General Court
SECOND MIDDLESEX DISTRICT
PATRICIA D. JEHLEN, 67 Dane St., Somerville, DEMOCRATIC
ROBERT L. CAPPUCCI, JR., 71 Evans St., Medford, REPUBLICAN
MIDDLESEX & SUFFOLK DISTRICT
SAL N. DiDOMENICO, 125 Clarence St., Everett, DEMOCRATIC
FIRST SUFFOLK & MIDDLESEX DISTRICT
ANTHONY W. PETRUCCELLI, 101 Gladstone St., Boston, DEMOCRATIC
Representative in General Court
TWENTY-FOURTH MIDDLESEX DISTRICT
DAVID M. ROGERS, 18 Richard Ave., Cambridge, DEMOCRATIC
TWENTY-FIFTH MIDDLESEX DISTRICT
MARJORIE C. DECKER, 61 Walden St., Cambridge, DEMOCRATIC
TWENTY-SIXTH MIDDLESEX DISTRICT
TIMOTHY J. TOOMEY, JR., 88 6th St., Cambridge, DEMOCRATIC
THOMAS MICHAEL VASCONCELOS, 63 Oak St., Somerville, INDEPENDENT
TWENTY-NINTH MIDDLESEX DISTRICT
JONATHAN HECHT, 159 Russell Ave., Watertown, DEMOCRATIC
EIGHTH SUFFOLK DISTRICT
JAY D. LIVINGSTONE, 19 Revere St., Boston, DEMOCRATIC
District Attorney
NORTHERN DISTRICT
MARIAN T. RYAN, 8 Bradford Rd., Belmont, DEMOCRATIC
Register of Probate
MIDDLESEX COUNTY
TARA E. DeCRISTOFARO, 36 Terrace Rd., Medford, DEMOCRATIC
JOHN W. LAMBERT, SR., 5 Beverly Rd., Natick, REPUBLICAN
Ballot questions
Question 1: Eliminating Gas Tax Indexing
Question 2: Expanding the Beverage Container Deposit Law
Question 3: Expanding Prohibitions on Gaming
Question 4: Earned Sick Time for Employees
Question 5 (Twenty-Fourth Middlesex District Only): Shall the state representative from this district be instructed to vote in favor of legislation that would allow the state to regulate and tax marijuana in the same manner as alcohol?