Catching Up on the Cambridge News (April 21, 2015)
City of Cambridge 2015 Outstanding City Employee Award Winners Announced
April 17, 2015 – City Manager Richard C. Rossi is pleased to announce the recipients of the 2015 Outstanding City Employee Award.
Janice Alger, Assistant Director of Administration, Human Services Department

Kara Armstrong, Administrative Assistant, License Commission

Sidney Botelho, Communications Supervisor, Emergency Communications Department

Karen Brown, Deputy Director, Library

Maryellen Carvello, Office Manager, Executive Office

Tyrell Dortch, Youth Center Program Director, Human Services Department

Juan Galindo, Working Foreman/Laborer, Department of Public Works

Brian Gover, Deputy Chief, Fire Department

Priscilla Lopes, Career Counselor, Human Services Department

Paul Ryder, Division Head/Recreation Director, Human Services Department

Anthony Tuccinardi, Housing Inspector, Inspectional Services Department
The City Manager will also be presenting a special award in memory and honor of Assistant City Manager Brian Murphy to a person who is committed to making government improve the lives of others.
Recipients will be honored at a ceremony on Friday, May 1, 2015, at 9:30am, in the Sullivan Chamber at City Hall, for their superior performance, positive attitude, hard work and dedication to public service. All are welcome to attend.
---
Cambridge Joins 73 Cities & Counties to Take Legal Action in Support of Immigration Reforms
April 7, 2015 – As part of Cities United for Immigration Action, Mayor David P. Maher and City Manager Richard C. Rossi announced that Cambridge has joined 73 cities and counties to file a new friend-of-the-court brief in the Fifth Circuit Court of Appeals in the Texas vs. United States lawsuit, urging immediate implementation of President Obama's executive actions on immigration. The brief demonstrates robust support from the country's largest cities – as well as its suburbs and rural areas – for the President's reforms, which will provide temporary relief from deportation to immigrants with longstanding ties to the U.S. who pass a background check and meet other criteria.
The cities and counties – representing 43 million people across the country – argue that the district court judge who temporarily blocked implementation of the programs failed to consider the significant harms to America's local governments caused by this delay. The brief more than doubles the number of local governments that had previously voiced opposition to the lawsuit brought by states seeking to block President Obama's immigration reform efforts.
"Cambridge is home to immigrants from across the world and these residents help make our city the vibrant and diverse community that we are so proud of," said Mayor Maher. "I am pleased to join other Mayors and city leaders to urge swift action on immigration reform which will strengthen families, grow our economy and reward the hard work and determination of those seeking the American dream both in Cambridge and across the country."
As part of Cities United for Immigration Action, New York City Mayor Bill de Blasio and Los Angeles Mayor Eric Garcetti led the effort to organize more than 70 cities and counties, the National League of Cities, and the U.S. Conference of Mayors in arguing that the national public interest is served clearly and overwhelmingly by implementing immigration relief by executive action without delay. The brief also argues that the District Court judge's decision to block executive action with a preliminary injunction is bad for the economy, hurts families, threatens law enforcement priorities, and will stall desperately needed changes to the federal government's immigration policies.
---
Save the Date for Cambridge Arts Open Studios, May 9 & 10
7th Annual Cambridge Arts Open Studios
Saturday, May 9th & Sunday, May 10th
12 noon – 6:00pm
Explore the work of over 100 visual and performing artists over one vibrant weekend! Celebrate the special women in your life with a memorable mother's day weekend celebration of the visual and performing arts in Cambridge. Discover exceptional works of art and find unique presents to wrap up for mom.
New this year, performing artists are paired with visual artists for engaging and intimate performances in studios and common venues throughout the city.
Visit cambridgeartscouncil.org/openstudios to plan your visit!
---
Cambridge Participatory Budgeting Winning Projects Announced
April 7, 2015 – During a Vote Results Party April 7 at the Citywide Senior Center, City officials, along with Budget and Finance staff, announced the winning projects of the Cambridge's first ever Participatory Budgeting (PB) process. Launched in the fall, PB enabled residents to directly decide how to spend $500,000 of the FY16 Capital Budget. Over 380 ideas for projects to improve Cambridge were submitted. From January to March, 40 volunteer Budget Delegates prioritized and developed those ideas into 20 concrete project proposals to be placed on a ballot for the community to vote on.
Over 2,700 Cambridge residents age 12 and older voted online and at events around town to decide which projects the City should fund.
The following six projects won PB funding for FY16:
100 new trees and tree wells in low-canopy neighborhoods ($119,400)
20 new laptops for the Community Learning Center ($27,000)
Bilingual books for children learning English ($7,000)
Public toilet in Central Square ($320,000)
8 bike repair stations ($12,000)
Free public Wi-Fi in 6 outdoor locations ($42,000)
The above projects totaling $527,400 will be implemented as part of the City of Cambridge FY16 Capital Budget.
Many thanks to the PB Cambridge Steering Committee, the Budget Delegates, the Participatory Budgeting Project, City staff, the Stanford Crowdsourced Democracy Team, and all of the volunteers and participants who helped make this pilot initiative a great success!
Want to get involved? We're launching the second round of Participatory Budgeting this summer. Find out more at www.cambridgema.gov/yourbudget.
---
City of Cambridge Soliciting Memberships for Transit Advisory Committee
April 13, 2015 – City Manager Richard C. Rossi is seeking members for the Transit Advisory Committee, which works to advance an agenda for a robust public transportation system for those who live and work in Cambridge. The committee is composed of a cross section of stakeholders that advise on city positions and policies regarding long term sustainable funding for transit by the Commonwealth, transit expansion, service planning, and service improvements. Meetings are held on the first Wednesday of each month, from 5:30-7:30pm, at the Citywide Senior Center, 806 Mass. Ave.
Applications are sought by dedicated individuals who live or work in Cambridge. Members are expected to attend monthly meetings as well as review materials and potentially engage in projects outside of regular meetings. To apply, please prepare a cover letter indicating your interest and any relevant knowledge and experience you may have in this area, and specific issues you would like to contribute time to working on. Please be sure to include your mailing address, phone number, and email. The application deadline is Friday, May 1. Please forward letters of interest via mail or email to:
Richard C. Rossi, City Manager
c/o Diane Bongiorno
Cambridge Community Development Department
344 Broadway, Cambridge, MA 02139
Email: dbongiorno@cambridgema.gov
Appointments are made by the City Manager and are for two years of service. For more information, call Tegin Bennett at 617-349-4615 or email tbennett@cambridgema.gov. Visit the committee's webpage at: cambridgema.gov/CDD/Transportation/forthepublic/transitadvisorycommittee
---
Main Street Construction Update: Road and Sidewalk Work Starts April 21
On Tuesday, April 21, the city's contractor, Newport Construction, will begin roadway and sidewalk reconstruction on Main St between Ames St and Wadsworth. The road work is expected to take about 1 month to complete, while the sidewalk work will be ongoing throughout the spring and summer. During the road work phase, Main St will function as a one way. While crews reconstruct the eastbound lanes, only westbound traffic on Main St will be permitted. When crews switch to the westbound side, only eastbound traffic will be permitted. MBTA, trolley and EZ Ride stops may be adjusted during the road work. Please check signs for temporary stop locations.
PROJECT SCHEDULE
Starting Tuesday, April 21, crews will mobilize on Main St to begin roadway reconstruction. Work will begin on the eastbound side first (2 weeks), and then switch to the westbound side (2 weeks).
Additionally, starting on April 21, crews will begin sidewalk reconstruction on the north (Marriott) side of Main St (2 months), followed by the south side (2 months). We will continue to provide updates as the construction progresses.
WHAT TO EXPECT DURING CONSTRUCTION
During the road work phase, Main St will function as a one way. While crews reconstruct the eastbound lanes, only westbound traffic on Main St will be permitted. When crews switch to the westbound side, only eastbound traffic will be permitted.
MBTA Bus, shuttle and trolley stops on Main St may be adjusted during roadway reconstruction. Please check signs for temporary stops.
"No Parking" signs will be posted; please be sure to check dates/times.
Emergency vehicles will have access at all times.
Additional information and project plans are available online at: www.cambridgema.gov/theworks/cityprojects.aspx, under Main Street Reconstruction Project.
---
Connect Kendall Square Competition Winner Selected
April 9 – Connect Kendall Square Open Space Competition The City of Cambridge is pleased to announce the selection of Somerville based Richard Burck Associates as the winner of the Connect Kendall Square Open Space Planning Competition. Richard Burck Associates was chosen by a six member jury after the culmination of a three stage process spanning eight months.
Four teams of finalists were charged with developing an open space plan framework guided by a vision and planning and design goals identified through a robust public process spearheaded by the City and the Eastern Cambridge and Kendall Square Open Space (ECKOS) Study Committee. The goals included promoting complementary uniqueness, establishing activations strategies, building an identity, and elevating the user experience. The teams presented their framework plans to the competition jury and the general public on March 25-26, 2015.
The competition, sponsored by the City's Community Development Department, was a unique opportunity to develop a plan to implement the vision for the entire open space network in Kendall Square and eastern Cambridge and vicinity. Launched July 2014, Connect Kendall Square was a departure from more traditional planning processes, and even unique among competition formats. The competition generated creative ideas and thinking on strategies to use open space and the public realm to better connect Kendall Square to surrounding neighborhoods, and also create a sense of place and identity. The winning framework plan will serve as a means of informing park designs, the character and role of both public and private open spaces in the area, and even decisions regarding infrastructure, city policy and future development.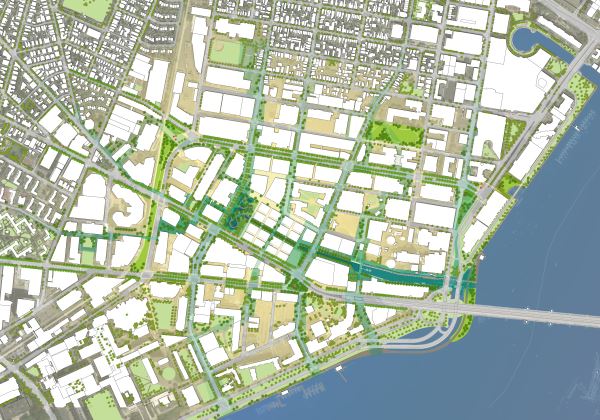 The framework plan presented by Richard Burck Associates is structured on better connecting the Charles River to Kendall Square, and then better connecting Kendall Square to its surrounding parks, neighborhoods and MIT. This layered effort encompasses organizing new urban form to feature open space connectedness, connecting a series of sustainable storm water strategies, and developing strong pedestrian connections throughout the project area. This "dendritic" pattern overlaid on Kendall Square describes circulation moving in an increasing concentrated way to the Charles River. It's a pattern with historic roots rich with interpretive possibilities in connecting Kendall Square today.
The competition jury consisted of Ethan Carr, PhD, FASLA, professor of landscape architecture at University of Massachusetts, Amherst; Candace Damon, Vice Chairman of HR&A Advisors, Inc.; Robin Moore, professor of landscape architecture and Director, Natural Learning Initiative, NC State University; Inga Saffron, architecture critic for the Philadelphia Inquirer; Michael Singer, artist and designer; and alternate juror J. Roger Boothe, former Director of Urban Design for the City of Cambridge. More information about the Jury's selection and evaluation is available in the Jury Report.
For more information, visit the project page or competition website, or contact Taha Jennings at tjennings@cambridgema.gov or 617-349-4302.
---
Alewife Brook Combined Sewer Overflow Control Progress Update
April 9 – This notice is required by the Massachusetts Department of Environmental Protection (DEP) as an annual update on the progress of Combined Sewer Overflow (CSO) control measures that are underway to improve the water quality of Alewife Brook.
JOINT PUBLIC NOTICE – APRIL 2015
Alewife Brook Combined Sewer Overflow Control Progress Update
Residents with property that lies in the extended 100-year floodplain of Alewife Brook as established and currently in effect by the Federal Emergency Management Agency (FEMA) will receive a direct notice in the mail in mid-April. For more information, please refer to the notice or contact Catherine Daly Woodbury at Public Works at 617-349-4818 or cwoodbury@cambridgema.gov.
---
Rain Barrel Program
April 8 – April Showers Bring Limited Time Offer on Rain Barrels

Capture the rainwater from your roof and store it in a rain barrel for later use in your garden. Purchase a 60-gallon rainwater collection system for $79.00. This offer is valid until May 14th. To provide the lowest cost, the company is arranging for a general delivery of the rain barrels on Thursday, May 21st , from 4-7pm, at Cambridge DPW yard, 147 Hampshire Street.
If rainwater is not captured and allowed to soak back into the ground, rivers and streams do not have the chance to sustain or "recharge" themselves. By capturing rainwater, you are reducing stormwater runoff, conserving water and recharging the groundwater. A local non-profit agency, Green Cambridge (www.greencambridge.org), is offering to install rain barrels for Cambridge residents free of charge. If you prefer to install them yourself, the rain barrel arrives with simple instructions for fast and easy installation.
For more information, to order online and to check out the new design and variety of color options log onto The Great American Rain Barrel Company website: www.greatamericanrainbarrel.com, click on "Shop Local Programs" and select "Cambridge". You can also order by phone (800-251-2352) toll free when specifying the City of Cambridge promotion.