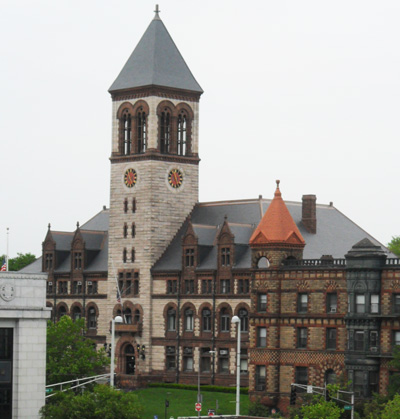 There has been a great deal of myth-making in Cambridge over the last couple of years that, arguably, began with the "Central Squared" report from the "Red Ribbon Commission on the Delights and Concerns of Central Square" in December 2011. One of the more emphasized recommendations in that report was for the development of a significant amount of new housing (primarily targeting middle-income residents) in the Central Square area. This led to the formation of a group called "Essex Street Neighbors" who, along with other Area Four activists, opposed this concept and promptly filed a zoning petition to obstruct any such future plans. Even as most planners embraced principles of transit oriented development and smart growth, these residents moved in exactly the opposite direction by advocating for the preservation of surface parking lots and a decrease in density in the vicinity of transit in Central Square.
Their petition was eventually allowed to expire and the group re-branded itself as the Cambridge Residents Alliance (CRA) as it added activist partners including key players with the Association of Cambridge Neighborhoods (ACN). As the "K2C2 process" got underway with the goal of making recommendations for Kendall Square (K2) and Central Square (C2) and the areas in between, the newly branded Cambridge Residents Alliance continued to oppose any zoning petitions or recommendations that might result in added density (including new housing). One part of their rhetorical arsenal was a call for a "citywide master plan" in the wake of what their group has characterized as a "tsunami of development". The clear implication in all of their rhetoric was that new development – primarily housing development – was being done with little or no guidance from the Planning Board or the Community Development Department and with minimal attention paid to transportation concerns.
That rhetoric continued unabated during the 2013 municipal election season as the Cambridge Residents Alliance and its Association of Cambridge Neighborhoods partners were ever-present at campaign events and actively tried to lure candidates over to their way of thinking – with some success. They ultimately endorsed just one candidate – Dennis Carlone – who was elected and who subsequently took on Mike Connolly as his "council aide". Mr. Connolly continues to be listed as the Secretary of the Association of Cambridge Neighborhoods and is a primary communications person for the Cambridge Residents Alliance even though he is now being subsidized by the City of Cambridge. While these personal council aide positions have been filled with political supporters of the respective councillors from the beginning, never has the position become as overtly political as it has now become with the hiring of Mr. Connolly.
The CRA/ACN activists have continued their political organizing this year by targeting residents in areas where new housing has been built or where it is proposed to be built. In every instance the rhetoric is of the "tsunami of development" or "unbridled development".
It is interesting that the agenda of the April 7 City Council meeting includes not only an Order (from Councillors Carlone, Mazen, and Simmons) that is the capstone of the master plan mythology crafted over the last two years, but also an alternative Order (from Mayor Maher, Vice Mayor Benzan and Councillor McGovern) that offers a much more factual point of view and, most significantly, an acknowledgment that the Planning Board and the Community Development Department have actually been doing their job and carrying out established City Council policies in recent years – including the development of new housing in accordance with smart growth principals and overall policies promoted by regional entities such as the Metropolitan Area Planning Council (MAPC).
I find the discussion of the need for a "master plan" for Cambridge to be, on the one hand, naive and, on the other hand, disingenuous. Though I have not examined the zoning codes from other cities in great detail, I seriously doubt whether there are too many with as much detail as Cambridge's Zoning Ordinance. It's VERY prescriptive with its wide variety of overlay districts and planned unit developments. Cambridge's Zoning Ordinance coupled with its Growth Policy Document (initiated 20 years ago and updated several years ago) really does give a very comprehensive picture of Cambridge's "master plan". Cambridge officials are also ever-present at all regional planning meetings – especially those involving transportation planning.
Perhaps the real reason for all the talk now and during the recent City Council election about a "master plan" comes down to a single overriding policy and not actually about a master plan or any failings in the zoning code. That single policy is that housing is encouraged (with associated incentives in the zoning ordinance) on sites that were formally commercial or industrial. If you look at most of the significant housing developments now or recently under construction you'll find that most of these replaced non-housing uses. This policy is also very consistent with all of the regional plans developed and promoted by the MAPC and other regional planning entities.
I believe most planners, including Dennis Carlone, will tell you that housing is not a major contributor to motor vehicle traffic – at least not compared to commercial uses. If traffic is what's getting the activists' panties in a twist, they should not be looking at new housing as the cause for their discomfort. My sense has been that you can look to pass-through traffic in the Alewife area as the primary cause of any trouble there and not to anything recently or currently being built in Cambridge. The simple fact is that the highway part of Route 2 ends abruptly at Alewife and all that traffic has to connect to their destinations somehow, and it does lead to a ripple effect that clogs things up elsewhere.
There is also a fair amount of regional traffic that simply passes through parts of Cambridge at the eastern end in order to connect to arterials such as the Mass Pike. The River Street/Prospect Street corridor is problematic because it's a major connection from the Mass Pike. Unless a "Master Plan" intends to build new arterials to relieve the traffic, and we all know that will not and should not happen, then the call for a "master plan" is little more than a populist myth designed to win votes or, perhaps more correctly, a disguised effort to stop the development of new housing.
Here are a few more specific comments on the meeting agenda items:
Manager's Agenda #1. Transmitting communication from Richard C. Rossi, City Manager, relative to the appointments of the following persons as members of the Central Square Advisory Committee as set out in Section 20.300 of the Zoning Ordinance.
Though I was personally very pleased to be reappointed to the CSAC, it was especially refreshing to see among the appointees a number of new names. This is a hopeful sign. The CSAC is purely advisory and has no actual regulatory authority, but it has the potential to be very helpful in facilitating community discussion on matters relating to Central Square. I look forward to the expanded role that has been proposed for the body.
Manager's Agenda #8. Transmitting communication from Richard C. Rossi, City Manager, relative to Awaiting Report Item Number 14-09, regarding a report on the status of the new Lechmere Station development and plans for the current Lechmere site.
I'll simply quote from the last paragraph: "Redevelopment on the current Lechmere Station site is permitted as part of an approved PUD master plan for the North Point area (Planning Board Special Permit #179). Part of the current station site will accommodate a northerly extension of First Street to Monsignor O'Brien Highway. The remaining land is permitted for residential development with a maximum height of 65 feet, with retail uses and plaza space at the ground level. Redevelopment would be contingent upon completion of the new station and transfer of the land to the private developer." This has the potential to really transform this site into something far better than is there today.
Manager's Agenda #13. Transmitting communication from Richard C. Rossi, City Manager, relative to an order requesting the appropriation and authorization to borrow an additional $11,000,000 to provide funds for construction and other associated costs of the King School project.
The additional cost will likely surprise no one. Bear in mind that this is just the first in a series of what will certainly be several more very expensive school replacement projects associated with the plans embodied in the School Departments "Innovation Agenda".
Order #7. That the Government Operations, Rules and Claims Committee is requested to review and evaluate the overall effectiveness of the Council Aide positions. Mayor Maher
I am intrigued by the introduction of this Order at this time. While I have consistently questioned the idea of personal aides for city councillors, I have never questioned the need for adequate staffing. I have to wonder if the overt politicization of the council aide positions this year has anything to do with the timing of this Order. My other concern is that our well-paid councillors may actually want to turn these into full-time positions – an absurd proposition without justification, but not an impossibility.
Order #8. That the Zoning Ordinances of the City of Cambridge be amended to limit the number of non-locally owned financial institutions not to exceed the number of existing established financial institutions; said limit be in the overlay districts of Central, Harvard and Kendall Squares. Councillor Cheung
I can't imagine any way that this could be done consistent with the laws of the Commonwealth or the United States Constitution.
Order #14. That the City Manager is requested to support the intent of the Master Plan initiative which seeks to provide the City Council, its committees, City Staff, members of the public, and all interested stakeholders with an opportunity to further explore traffic congestion, transportation financing, pedestrian safety, resident parking, and a desire for enhanced multi-modal transit infrastructure throughout the city. Councillor Carlone, Councillor Simmons and Councillor Mazen
Order #15. That the Cambridge Community Development Department shall hold a series of public meetings to discuss the range of planning and zoning issues that have recently been in active discussion across the city, including, but not limited to, all varieties of housing (such as affordable, middle income, or other types of housing units), the amount, type and location of new and existing development, pre-fabricated units, transportation, congestion, open space, streetscape design, building design, sustainability, infrastructure and economic development with recommendations for moving forward on short range and long range planning work that is recommended as an outgrowth of these discussions. Mayor Maher, Vice Mayor Benzan and Councillor McGovern
See comments above. I only hope that the greater wisdom prevails and that the Order from Mayor Maher, Vice Mayor Benzan and Councillor McGovern picks up a clear majority of votes. Professional courtesy and collegiality notwithstanding, I hope that if any part the "Master Plan" order is approved then it should be radically amended to remove the various references to noble goals that would, in fact, be thwarted by its underlying goal of slowing or stopping the construction of new housing in Cambridge.
Order #16. That the City Council urgently requests that MassDOT start the permitting process for underpasses for Anderson Memorial Bridge, Western Avenue Bridge and River Street Bridge immediately, given that MassDOT has changed its construction and design plans for all three of the above bridges where it is now possible for the timely addition of underpasses to such plans Mayor Maher and Councillor Carlone
Though I may find the notion of bike/pedestrian pathway without street crossings along the Charles River quite appealing, I'm also quite respectful of the cost and engineering difficulties associated with such a plan. I could imagine ways to do this at the BU Bridge or the Anderson Memorial Bridge, but it's much more difficult to see a way to make this so at either the Western Avenue Bridge and River Street Bridge (or, for that matter, at the Mass. Ave. bridge). – Robert Winters