2013 Cambridge City Council Campaign Finance Receipts (Jan 1, 2013 through Jan 19, 2014)
| Candidates | Jan 19 Cambridge | Jan 19 Total | Cambridge % | PAC % | RE % | Latest | Notes |
| --- | --- | --- | --- | --- | --- | --- | --- |
| Benzan, Dennis | $22,941.00 | $52,211.00 | 43.9% | 0.5% | 0.5% | 10-Dec-13 | $2,000 overpayment subtracted |
| Carlone, Dennis | $34,164.00 | $40,718.00 | 83.9% | 0.6% | 0.5% | 20-Dec-13 | $16,000 from candidate |
| Cheung, Leland | $21,366.00 | $51,385.37 | 41.6% | 6.4% | 20.2% | 20-Nov-13 | $2 from candidate |
| House, Janneke | $9,310.00 | $14,611.73 | 63.7% | 0% | 5.1% | 24-Nov-13 | $4,000 from candidate |
| Kelley, Craig | $10,591.00 | $11,441.00 | 92.6% | 0% | 3.5% | 9-Jan-14 | $25 from candidate |
| Lee, James | $1,800.00 | $1,975.00 | 91.1% | 0% | 0% | 4-Nov-13 | $1,800 from candidate |
| Leslie, Logan | $20,520.00 | $24,007.53 | 85.5% | 4.2% | 0% | 8-Nov-13 | $13,100 from candidate |
| Maher, David | $28,260.00 | $50,653.68 | 55.8% | 6.6% | 22.4% | 11-Dec-13 | - |
| Mazen, Nadeem | $8,255.00 | $28,807.65 | 28.7% | 0% | 0% | 13-Jan-14 | includes $1750 in-kind, $3000 loan from candidate |
| McGovern, Marc | $21,668.58 | $40,640.03 | 53.3% | 7.3% | 21.4% | 16-Dec-13 | $1903.58 from previous campaign |
| Mello, Gary | $500.00 | $500.00 | 100.0% | 0% | 0% | 8-Aug-13 | $500 from candidate |
| Mirza, Mushtaque | $17,786.00 | $19,983.00 | 89.0% | 0% | 0% | 8-Jan-14 | $17,000 loan; $16793.84 apparently forgiven |
| Moree, Gregg J.  | $2,400.00 | $2,400.00 | 100.0% | 0% | 0% | - | $2,400 from candidate not itemized |
| Peden, Ron | $500.00 | $500.00 | 100.0% | 0% | 0% | - | $500 from candidate not itemized |
| Phillips, Lesley | $500.00 | $500.00 | 100.0% | 0% | 0% | 22-Apr-13 | - |
| Reeves, Ken | $14,543.88 | $52,085.63 | 27.9% | 10.1% | 30.5% | 27-Nov-13 | Campaign headquarters greatly underreported |
| Seidel, Sam | $15,362.00 | $22,245.82 | 69.1% | 1.1% | 0.9% | 16-Jan-14 | $4,001 from candidate |
| Simmons, Denise | $12,850.00 | $29,413.18 | 43.7% | 11.4% | 22.8% | 2-Dec-14 | - |
| Smith, Jefferson | $12,820.00 | $32,220.00 | 39.8% | 7.3% | 0% | 12-Dec-13 | $10,000 from candidate |
| Toomey, Tim | $15,969.43 | $41,083.77 | 38.9% | 13.6% | 22.1% | 31-Dec-13 | - |
| vanBeuzekom, Minka  | $22,512.00 | $31,757.70 | 70.9% | 1.3% | 3.0% | 27-Dec-13 | $7,500 from candidate |
| Vasquez, Luis | $1,375.00 | $2,264.16 | 60.7% | 0% | 0% | 23-Sep-13 | - |
| von Hoffmann, Kristen | $6,351.33 | $17,166.45 | 37.0% | 0% | 1.7% | 19-Dec-13 | $1,750 loan; $1640.33 in-kind forgiven |
| Williamson, James | - | - | - | - | - | - | no reported receipts |
| Yarden, Elie | - | - | - | - | - | - | no reported receipts |
Note: Receipts include candidate loans which can greatly increase the percentage from Cambridge. Fees are included and reduce total receipts. Percentages for unions/PACS and identifiable real estate interests (RE) are shown. The total receipts in the first graph below includes all receipts reported by the bank. Bank receipts in some cases do not yet match the reported itemized receipts. All figures taken from Mass. Office of Campaign & Political Finance (OCPF) reports.
Additional information, including expenditures, may be found at http://cambridgecivic.com/?p=2660.
These figures will be updated as additional information becomes available.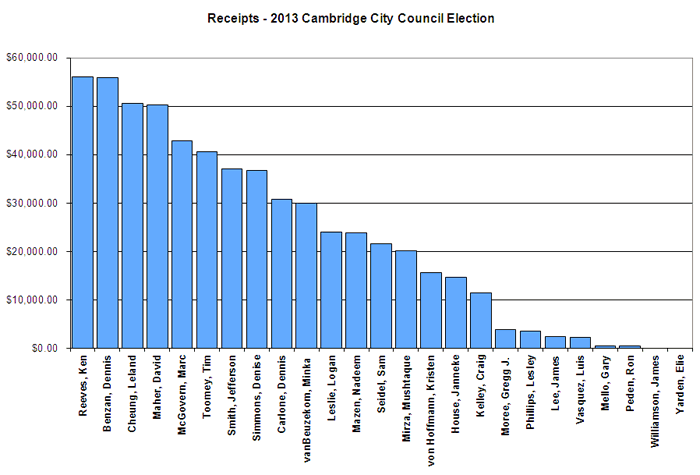 Total Itemized Receipts – 2013 (through Dec 14)
---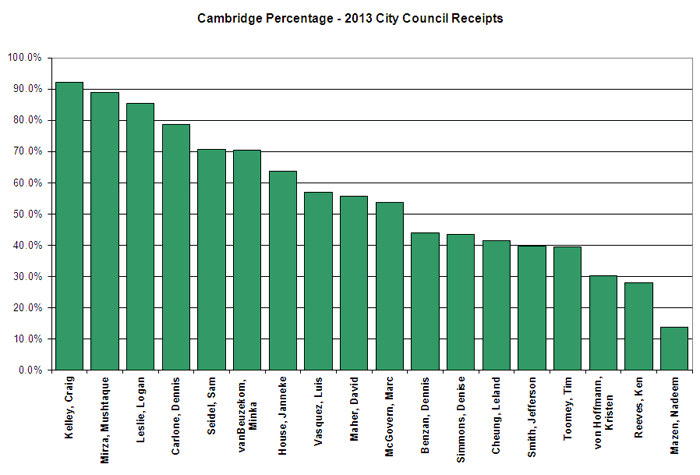 Percentage of Itemized Receipts from Cambridge – 2013 (through Dec 14, minimum $2000)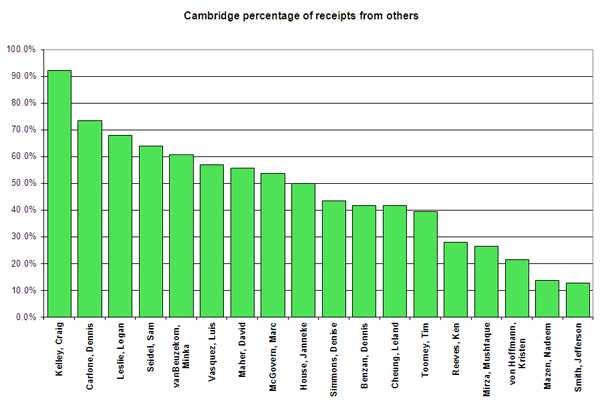 Percentage of Itemized Receipts from Cambridge w/o Candidate Loans
---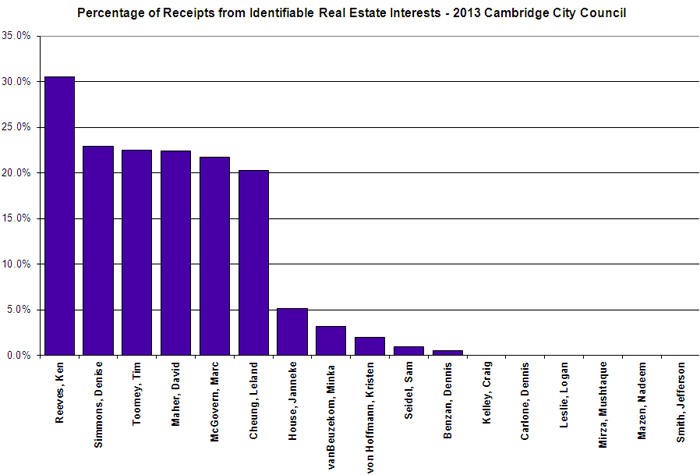 Percentage of Itemized Receipts from Real Estate/Developers – 2013 (through Dec 14, minimum $5000)