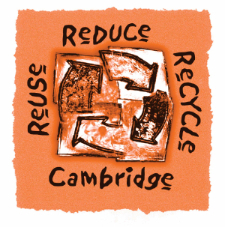 "Get Rid of It Right" Move Out Video – share widely!
Moving Season Reminders
Donate Books and Buy Pre-Loved Books
Order Recycling Materials
Seeking Enthusiastic School Composting Helpers
Bring Your Own Bag Ordinance a Success
Part-Time Opportunities
"Get Rid of It Right" This Move Out Season
Plan ahead for move out day, and give your stuff a second chance at life!
You're protecting the environment, and reducing waste.
Click the image below to watch a short video and visit www.CambridgeMA.Gov/MoveOut for more information.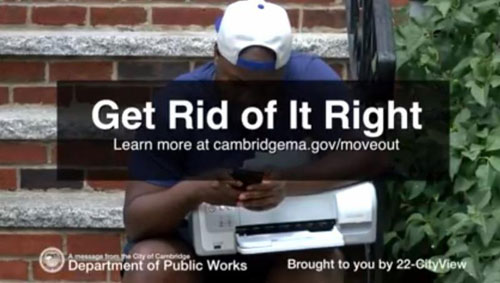 ---
Moving Season Reminders
Moving Out?
Donate It
Sell It
On-line: ebay, letgo, Craigslist are just a few examples of where you can sell your stuff
Bring to a Consignment Shop or have a Yard Sale
Recycle in the Curbside Bin
Large Plastics: All large rigid plastic items are accepted, such as storage containers, laundry baskets, and toys.
Books: Rip off hard covers. But, please donate good-condition books. Reuse is better than recycling.
Common Curbside Recycling Mistakes – Leave It Out
Special Handling Required
NO Non-Alkaline Batteries: Non-Alkaline batteries accepted at the Recycling Center or Household Hazardous Waste collections. Alkaline batteries made in USA after 1994 do not contain mercury and can go in the trash.
NO Fluorescent Bulbs, including CFLs: There are several disposal options including most Cambridge hardware stores and the Recycling Center.
NO Hazardous Waste, such as Paint: Review what must be brought to one of our four annual Household Hazardous Waste collections, including oil-based paint, chemicals and waste fuels. The webpage also has alternative options if you can't make the next collection (Sept 10).
Moving In?
Recycling is Mandatory in Cambridge – and Easy!
Review what is accepted in the curbside recycling program closely. Curbside recycling is primarily for clean containers, papers and cardboard. Recycling helps the environment and significantly reduces waste disposal costs for the city. Stay in the loop and subscribe below to receive the monthly e-newsletter from Cambridge Recycling.
What to Do with Packaging
Cardboard Boxes: Place in or next to recycling bin. Make sure boxes are empty (no Styrofoam, bubble wrap, or trash). Flatten when possible. Try to reuse! Post your moving boxes on Freecycle or Craigslist.
Bubble Wrap, Air Pillows, Shrink Wrap: Place with plastic bags at the Recycling Center during open hours. Must be empty, clean, and dry. Review accepted plastic film items here. Do not place in the curbside recycling.
Styrofoam Blocks and Peanuts: Blocks go in the trash. Bring peanuts to a UPS Store or to the Recycling Center during open hours for reuse. No cornstarch peanuts, which dissolve in water. Do not place in the curbside recycling.
Blister Packaging: Hard clear plastic form packaging can be recycled in the curbside program.
Shop Second-Hand
Shopping second-hand is much more affordable, fun, green, supports the local economy, and you can find great stuff!
Local Second-Hand Shops: Check out the red, green, and yellow pins on this map.
Stuff Sale, the biggest yard sale in Cambridge: Aug 23, 24, 25, 26, 27, 28 & Sept 3, 4, 5. Open to all from 9 AM – 5 PM, located at the Harvard Science Center Plaza at 1 Oxford Street. You'll find mini-fridges, rugs, lamps, futons, storage bins and hundreds of other items useful to anyone setting up an apartment. Proceeds support Harvard Habitat for Humanity's mission to build housing for the needy.
On-line: Try Freecycle, Craigslist, ebay, letgo.
---
Donate Books and Buy Pre-Loved Books
There are many places you can donate books, including the Cambridge Recycling Center community shelves during our open hours, Tues/Thurs 4pm-7:30pm and Sat 9am-4pm. At the Recycling Center, textbooks and excess books and are taken by More Than Words, a nonprofit social enterprise that empowers youth by taking charge of a business. Here are a few more places you can donate books: Boomerangs, Goodwill, Rodney's Bookstore, and the "Recycle That" and "Big Hearted Books & Clothing" donation boxes. Use our handy map.
Feel good when you read second-hand books! Some of the same places where you can donate books you can also buy them (Boomerangs, Goodwill, Rodney's Bookstore), and here are a few more on-line: More Than Words, Amazon, BetterWorldBooks.com. Of course there are also those wonderful places where you can borrow books — visit Cambridge Public Libraries!
You can also make use of the Little Free Libraries located at various locations throughout Cambridge, including private homes. Of course, there's also that great Cambridge tradition: a Free Box thoughtfully located in front of your house.
---
Have New Residents? Faded Labels? Order Recycling Materials!
Email recycle@cambridgema.gov to order.
recycling flyers with translations* (8.5×14)
toters
toter labels
"no trash, no plastic bags" stickers
"donate more trash less" flyers*
refrigerator magnets
translated recycling information sheets* (Spanish, Portuguese, Chinese, Creole, Ethiopian (Amharic))
*Also found in the "Educate Residents" section here.
Thank you for helping to spread the word!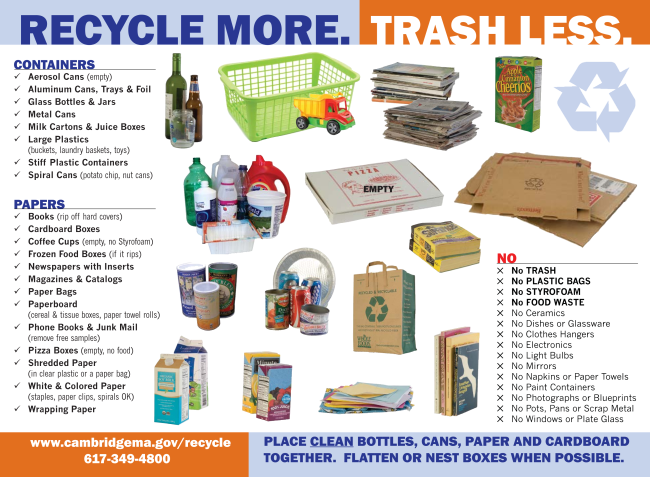 ---
Help Cambridge Kids Compost in the Cafeteria!
As kids head back to school they need help remembering "what goes where," as well as why recycling and composting is important. Additionally, new students need to be introduced to the program. Please consider joining us at a few school breakfasts and/or lunches at the start of the school year. We need many people to join in, as all 13 public schools now compost their food scraps, so sign up today, and tell a friend!
Email us to learn more. Thank you!!
---
Bring Your Own Bag (BYOB) Ordinance a Success
Thanks to strong support from the local business community and their customers, the City's Bring Your Own Bag (BYOB) Ordinance has led to a significant reduction in use of single-use bags in Cambridge.
Public Works staff and volunteers from the Cambridge Recycling Advisory Committee performed a study in July at several large Cambridge businesses and found a sizeable reduction in the consumption of single-use bags.
"What we observed was significant," said Meera Singh of the Cambridge Recycling Advisory Committee. "We saw a reduction in single-use bags of 50-80% across this group."
Read the full press release here.
---
Part-Time Opportunities
Cambridge Recycling is hiring a Recycling & Composting Outreach Assistant.
Public Works is also hiring an Energy & Sustainability Intern.
---

Know that recycling is easy and mandatory in Cambridge! Review what to recycle and help educate new residents! Encourage others to stay in the loop and sign up for the City's monthly e-newsletter on recycling, composting and reducing waste. Just email us at recycle@cambridgema.gov.