Cambridge, MA – Nadeem Mazen, candidate for Cambridge City Council, will be holding his kickoff event July 13th, from 3:00pm-5:00pm, at Central Square restaurant ZuZu.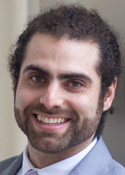 At the ZuZu kickoff event, Nadeem will also be releasing The Cambridge Happy Streets Project, a free online interactive map exploring over 125 Cambridge resident and visitor interviews. Each interview investigates a community member's happiness with Cambridge – what they appreciate about the city and what they wish could be changed.
Nadeem, a first-time candidate for City Council, is running on a platform of technology and media-based access to municipal government called Byte-Sized Politics, in which Cambridge's unique innovative background is leveraged to make the city's government more easily understood and engaged via new media and technologies.
Nadeem lives in Cambridgeport and owns two small businesses in Central Square. danger!awesome is a storefront for arts skill-sharing and professional development classes and Nimblebot.com specializes in developing educational media and interactive software. Nadeem moved to Cambridge over a decade ago to attend MIT.
The event is open to the public and will feature music, a cash bar, and free appetizers.
Facebook Event: http://on.fb.me/14y9UuB